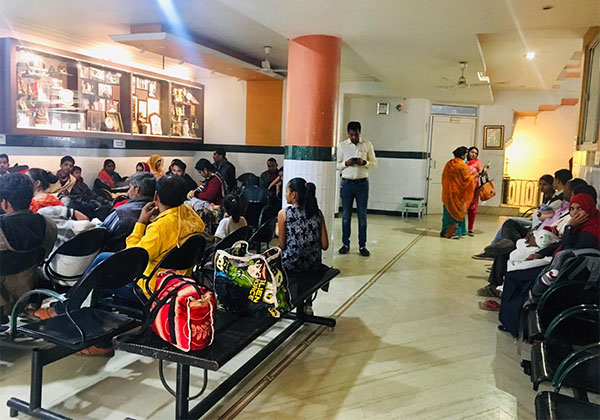 Best Child Vaccination in Udaipur
Soon after birth, your child receives vaccinations such as the BCG, oral polio vaccine, and hepatitis B vaccine. Typically, throughout the first months of life, your child will receive a number of shots. Your youngster need less vaccines by the age of six, while your teenager is subject to a completely new set of immunisation requirements. Your child will require booster shots for some shots and vaccines throughout their lives, and frequently into adulthood. Your paediatrician keeps a schedule of everything, so you know exactly when to start and how frequently you see your doctor. In order to ensure that your child has the necessary vaccinations, we also have a system in place for issuing reminders.
Bhandari Children's Hospital is a prominent Child Vaccination in Udaipur. The hospital has been providing quality child vaccinations services since its inception and continues to be one of the leading hospitals for pediatric care in the region.
Diseases like polio, measles, rubella, and varicella, can cause severe health complications. Vaccination not only saves children from serious health problems, but also prevents parents from suffering from immense agonies because of their children's illnesses.
The Bhandari Children's Hospital is a leading hospital in Udaipur for providing world-class services for children. It has been catering to the needs of children for a long time now and is widely known for its dedication to child vaccination. The hospital has a well-respected team of doctors and nurses who are are experts in their field.They are equipped with the latest medical equipment, which allows them to treat children with precision and care.
The Bhandari Children's Hospital is a prominent hospital in Udaipur that is known for its dedication to child vaccination in Udaipur. It faces several challenges in providing world-class services, but is determined to overcome them. It is a place where children can count on for quality care.
There is a spacious waiting area. Receptionist at OPD counter guides the parents for investigations and also answers their general queries.
Pharmacy is also available in the OPD premises which is open 24 hours a day.
Vaccination is very important for children to prevent them for serious diseases.
Bhandari children hospital is well equipped with all the vaccines required as in government schedule and Indian Academy of Pediatrics (IAP).
Vaccination facilities are also available for children going abroad for educational purpose as per requirement of different countries.