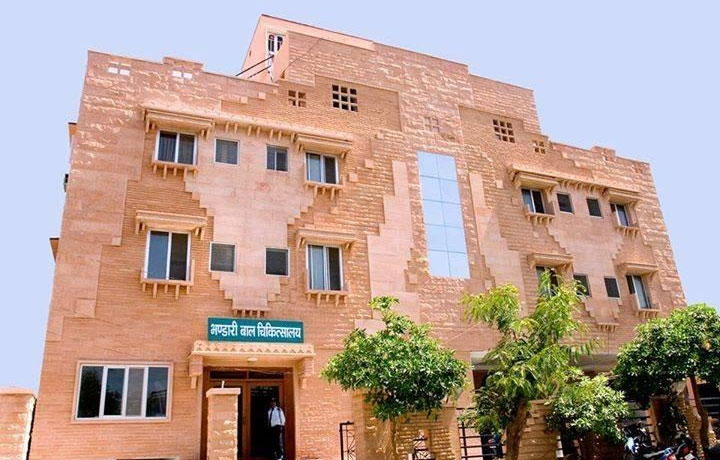 Premature Child Care in Udaipur
Bhandari Children Hospital is one of the premier children hospital in Udaipur. The hospital has been in existence for more than 24 years delivering high quality care to the children of not only Rajasthan but also nearby districts of Madhya Pradesh and Gujrat at much lower cost.
While working with children since 1960 Prof. B. Bhandari dreamt for an independent discipline for children who were treated as miniature adults in (1960-70) by obstetrician there were 4 to 5 childern hospital in india. Bhandari Children Hospital provides all subspeciality services like neonatal care, pediatric intensive care, cardiology services, ENT, pediatric and neonatal surgeries etc.
Having immense administrative and clinical experience at medical college level has helped me in achieving my target. Our hospital is 100 - bed comprehensive health centre for patients till 18 years of age. There are more than 10000 OPD visits a year and around 5000 hospital admissions per year. The hospital has a strong and dynamic team of highly qualified and experienced consultants, well trained nurses and paramedical staff.
Bhandari Children Hospital is the only hospital in Rajasthan where Pediatric ICU and emergency services are taken care by qualified DM in pediaitric critical care.
It has been our goal to remain committed to patient care and maintain their high medical standards.
'Healthy Children, Healthy India'.
Bhandari Children Hospital is well known for its Child Care in Udaipur. The hospital provides complete medical care to infants up to 18 years old and their parents are also welcome to avail health services in the pediatric ward of the hospital.
Bhandari Children Hospital is well known for its Child Care services in Udaipur. It offers a wide range of facilities and services to care for your child. Among many other things, the hospital provides a wide range of regular and emergency child care. The cost of the services at Bhandari Children Hospital is also very affordable.
The facility is well equipped and has all the required facilities.
The staff is well-trained and attentive.
The child care counselors are available 24/7 to address any concerns or queries.
Child care is comfortable and stress-free.
This is the perfect place to take your child for regular or emergency child care needs. The affordable rates and excellent facilities make it an ideal option for parents.
Bhandari Children Hospital is a premier hospital in Udaipur that offers premature child care services. The goal of our premature child care program is to provide our infants with the best possible health and development while they are still able to be held and loved by their families. Our team of specialists has years of experience caring for premature babies, ensuring that each baby receives individualized attention and support. Bhandari Children Hospital's Premature Child Care Program provides high-quality medical treatment including all necessary tests, treatments, medications, and therapies; Close monitoring by skilled pediatricians around the clock; Special programs designed specifically for prematurity such as breastfeeding support groups, respiratory physiotherapy sessions, etc.
We are known for a famous बच्चों का अस्पताल in Udaipur that offers a wide range of health services to its patients. The hospital comprises a maternity wing, neonatal intensive care unit, post-natal ward, pediatrics, dental wing, and a kitchenette. The services offered by the hospital include premature baby care, maternal health services, surgery, and diagnostics.
The quality of care at Bhandari Children Hospital is highly commendable and accredited by various bodies. If you are looking for services like Premature child care in Udaipur, look no further than us.
---
Vision
To become the "center-of-excellence" in providing state of art health care for children from all socio-economic classes.
Mission
To provide high quality health care and maintain the standards.
To provide compassionate, ethical and patient centric medical services
To fulfill the needs of the community and keep high the flag of this noble profession.